As if you weren't enamored enough with one another, it's hard to prepare you for the love you'll feel for French Polynesia. Comprised of 118 islands divided into five groups (the Society Islands, the Marquesas Islands, the Austral Islands, the Tuamotu Archipelago, and the Gambier Islands), this celebrated Eden is spread far and wide across the South Pacific Ocean. If you're looking for a honeymoon that's remote but romantic, serene but sexy, then this is where you want to go.
Location: "Tahiti" is a bit of a catchall moniker for French Polynesia. With 118 islands in all, French Polynesia covers two million square miles of the South Pacific Ocean, which is roughly equal to an area as large as the continent of Europe. However, it is easy to island-hop, either by boat or by plane. An eight-hour flight (slightly west and very south) from Los Angeles takes you directly to Tahiti—French Polynesia's most populous island. The capitol of the collection, Pape'ete, is the economic, cultural and political centre of French Polynesia.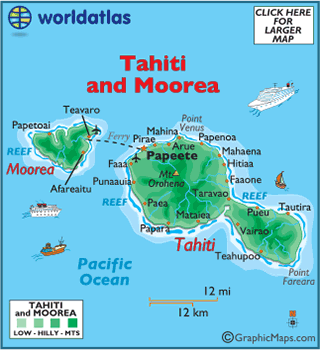 Climate: The average year-round temperature for Tahiti and her islands is 79 degrees Fahrenheit. Water temperatures average between 79-84 degrees, with less than a degree of variation from the surface down to a depth of 150 feet. November to April is the wet season, so we recommend going anytime May through October.
Language: French and Tahitian are the official languages, although English is widely spoken.
Currency: The French Pacific Franc (XPF) fluctuates with the euro. Hotels and financial institutions typically offer exchange services for a fee. The euro and major credit cards are also widely accepted.
Places of Note: If you've flown this far to enjoy French Polynesia, we highly suggest creating an itinerary that includes a visit to at least two or three islands. A flight from one island to another is quick and will give you the opportunity to see how they differ from one another (trust us, they do!).
Bora Bora is a little more than 140 miles northwest of Pape'ete. Surrounded by a lagoon and a barrier reef, this aquatic paradise was the location of the area's first over-water bungalows—now a standard feature of most Bora Bora resorts and worth every penny to call one your own, even if just for one night's stay. Manta ray and shark feeding dives are two exhilarating ways to play in Bora Bora.
Moorea, just 11 miles west of Tahiti, offers magnificent expanses of both white and black sand beaches, thanks to the area's volcanic origins. A quick ferry ride from Pape'ete grants you access to this heart-shaped island. Only one road winds around the island, only ten miles wide from east to west. Coral reefs and turquoise lagoons promise a colorful, relaxing honeymoon destination.
Huahine is actually two islands: Huahine-Nui and Huahine-Iti (big Huahine and little Huahine). Connected by a bridge, both islands can be explored in a day's time. Known as the "Garden Island," this verdant green oasis is a jungle thriving with lush landscapes and bright blooms. Explore the sacred temples hidden in the vegetation, and don't miss seeing the vanilla orchids and coconut plantations.
Taha'a is accessible only by boat from sister island Raiatea. "The Vanilla Island" grows nearly 80 percent of the vanilla produced in French Polynesia, and the fragrance is intoxicating. Motus (tiny islands) are perfect for claiming as your own deserted island for the day as you snorkel in shallow coral gardens. Don't miss a visit to a local pearl farm, where Tahitian black pearls are expertly cultured by experts.
Other islands to consider: Tetiaroa, Tikehau, Rangiroa, Manihi, and Fakarava.
Resort Options: Over-water villa for two, please! Thankfully, you won't find huge high-rise hotels anywhere, so seclusion and privacy are the norm on a French Polynesian vacation. Taking advantage of their incredible natural surroundings, you can expect smaller hotel experiences with exceptionally friendly, accommodating service. Excepting Tahiti, most island hotels are accessible only by boat, so make sure your transfers are arranged prior to travel.
Things to Do Here: From hiking tours to para-sailing,volleyball to bocce ball, SCUBA diving expeditions to snorkeling to glass-bottom boat rides, it's easy to find ways to while away your island hours. If you're looking for a city fix, a walk around crowded downtown Papeete should satisfy you, especially its bustling marketplace. After a couple of hours though, you'll likely be ready to head someplace quieter and more relaxing.
Why You Should Honeymoon Here: Idyllic and amazing, any island (or collection of islands!) in French Polynesia guarantees a romantic honeymoon beyond all expectations. Wake up to dive off your private dock to swim in the lagoon, then have breakfast delivered to your over-water bungalow in an outrigger canoe. Enjoy spa treatments a deux with the scent of fresh coconut and the oil of Tahitian tiare flowers. Relax and revel in one another as never before in the sensational, sensuous islands of French Polynesia.
Ready to begin planning your dream honeymoon in French Polynesia? Remember, with help from Ever After's Experts, all your travel details are taken care of, so you can focus on creating the perfect honeymoon, no matter where you choose to go! Contact an Expert today at RomanceTravel@everafter.com, call us toll-free at 888.734.4787 or visit our website at everafter.com.
Map from World Atlas