Timeless and endlessly captivating, a honeymoon in Greece promises history and culture, luxury and revelry, authenticity and intimacy. From Patras to Volos, Athens to Crete, you're sure to fall in love all over again amid the spectacular scenery and ancient architecture.
Location: Greece sits at the epicenter of Europe, Asia, and Africa. With the Aegean Sea to the east, the Ionian Sea to the west, and the Mediterranean Sea to the south, Greece boasts the longest coastline on the Mediterranean Basin. Of the thousands of Greek islands, only about 200 are inhabited.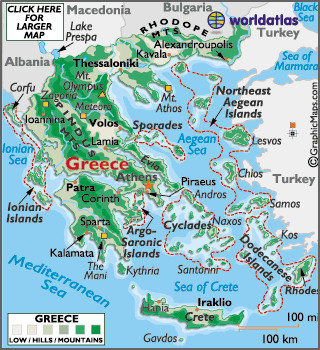 Climate: Distinctly Mediterranean. Summer weather means sunny, dry days, punctuated by an occasional thunderstorm, with pleasantly warm nights. Winter is wet, as the rains are persistent, but overall it is a mild season. The Etesian winds (strong, dry north winds of the Aegean Sea) blow from mid-May to mid-September. Temperatures average 53-70F.
Places of Note: Athens, Greece's capital and largest city, is home to ancient monuments such as the Parthenon, the Acropolis, and the Daphni Monastery, as well as the Hellenic Parliament and the Athens Trilogy (the National Library of Greece, Athens University, and the Academy of Athens). An archaeological hub, Athens is also known for its performing arts scene (more than 148 theatrical stages), museums, sports, and music.
Santorini is well known for its whitewashed homes amid multi-colored cliffs and blue-painted rooftops backed by picture-perfect sunsets. The island's intrigue is no secret, but the charming hilltop village of Oia and ancient churches carved in caves will thrill you again and again.
Mykonos—"the Island of the Winds"—is widely known for its nightlife, among many other activities. It boasts numerous beaches and 300 days of sunshine each year—the perfect destination to visit windmills and the Armenistis Lighthouse, Panagia Paraportiani (the Church of Our Lady) and Little Venice.
Crete, Greece's largest island, is a mountainous beauty that offers lush valleys and many spectacular gorges, archaeological sites and open-air museums. The venerable old town of Rethymnon is a perfect example of Old World charm: labyrinthine, cobblestone streets, quaint stores minded by friendly owners, and seaside restaurants that provide fare unmatched.
Other popular destinations to consider: Delphi, Naxos, Patmos, Macedonia, Thessaloniki, Kefalonia.
Resort Options: You'll enjoy a wide range of accommodation options in Greece. Large luxury hotels to smaller, family-owned apartments and luxury outposts are just a few options. From budget to beachfront, city-center to off the beaten path, there's something for everyone here.
Why You Should Honeymoon Here: Greece offers the superlative experience combination of exploration and opportunity for repose. Create an itinerary that allows you to enjoy the best of the sightseeing options balanced by days spent lazily lounging on the beach, the Aegean lapping at your toes. And did we mention the delectable cuisine? The freshest seafood, meaty olives and menus full of delicious Greek fare (spanikopita, tyropita, feta and moussaka) are enough to make you want to plan a trip for the culinary highlights alone. Greece may well be one of the most historical locations in the world, but when you come here for your honeymoon, it's wide open for the future.
Ready to begin planning your dream honeymoon in Greece? Remember, with help from Ever After's Experts, all your travel details are taken care of, so you can focus on creating the perfect honeymoon, no matter where you choose to go! Contact an Expert today at RomanceTravel@everafter.com, call us toll-free at 888.734.4787 or visit our website at everafter.com.
Map from World Atlas